Raisch Short Alu Rear Fender Kit pre-drilled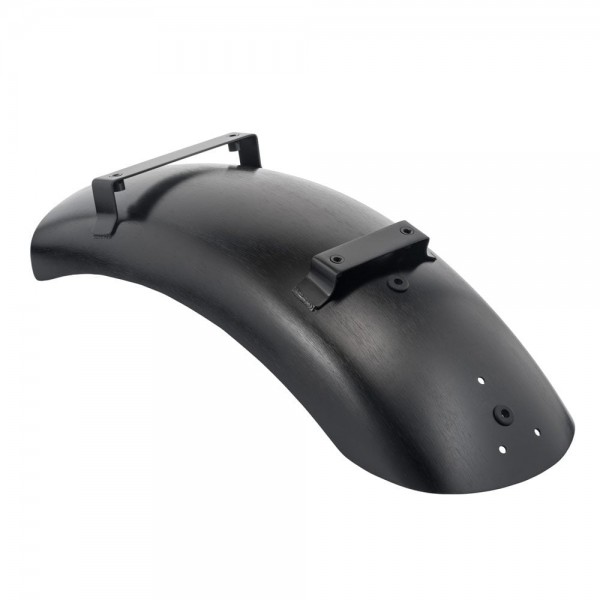 Order number:

CB12014

Raisch-ID:

211257495.SW.MS
The aluminum rear fender kit with pre-drilled holes for the Eldorado tail light and tail light...
more
Product information "Raisch Short Alu Rear Fender Kit pre-drilled"
The aluminum rear fender kit with pre-drilled holes for the Eldorado tail light and tail light cable included in the kit. The kit is optically exactly the same as the Raisch Rear Alu Fender Kit "CB11296" (see mounted pictures in this article).
Fenders only available in black.
The kit gives every Bonneville (T100 & T120) and all Street models (StreetTwin, StreetCup & StreetScrambler) the right old school look.
Since almost nobody likes the huge original traffic light system (tail light & turn signals), but many people don't want to do without a nice classic fender, we thought of this kit. The fender is made of solid, high quality aluminum and is plug&play with brackets to screw on.
The shape of the fender is much nicer and also a good bit shorter than the original. A matching cable set, which fits to the original wiring harness, is included.
The scope of delivery includes: Aluminium fender black, LED tail light Eldorado (different colors), license plate holder, turn signal holder and cable set.
Version 1: turn signal mounted on the shock absorber (not TÜV-compliant)
Version 2: Indicators are mounted on the back of the license plate (TÜV-compliant)
We have tested different rear lights and the Eldorado is best suited for the fender! This is also a very high quality aluminum tail light with LED technology.
Turn signals must be ordered separately. We would recommend you one of the turn signals, which you can find below in the accessories of this description.
For easier wiring of the turn signals we recommend to order a set of turn signal plugs in addition (accessory items in this description).
If you like to have the fender in a brushed, matt aluminium look, like on the photos, we recommend to order the fender in polished and brush it with a coarse grinding fluid. It takes about 5 minutes.
Triumph LC ab 2016:

Bonneville T100 EU 4
Bonneville T100 EU 5
Bonneville T120 EU 4
Bonneville T120 EU 5
Street Cup
Street Scrambler EU 4
Street Scrambler EU 5
Street Twin EU 4
Street Twin EU 5
Passend für
Triumph LC ab 2016 Bonneville T100 EU 4
Triumph LC ab 2016 Bonneville T100 EU 5
Triumph LC ab 2016 Bonneville T120 EU 4
Triumph LC ab 2016 Bonneville T120 EU 5
Triumph LC ab 2016 Street Cup
Triumph LC ab 2016 Street Scrambler EU 4
Triumph LC ab 2016 Street Scrambler EU 5
Triumph LC ab 2016 Street Twin EU 4
Triumph LC ab 2016 Street Twin EU 5