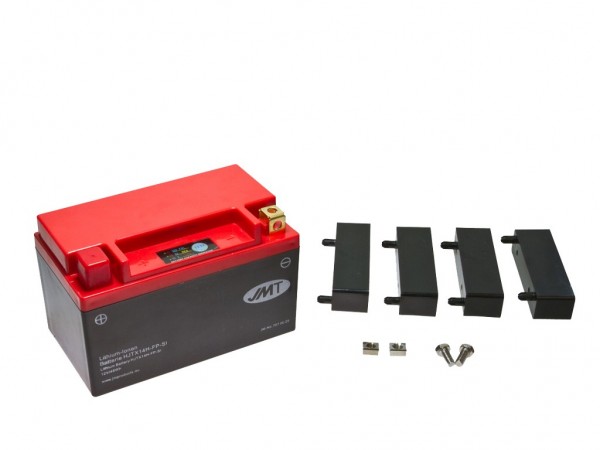 Order number:

CB00523

Raisch-ID:

211257218
Lithium-ion battery. For the weight fetishists among the motorcyclists. The battery weighs...
more
Product information "Lithium-Ionen Battery"
Lithium-ion battery. For the weight fetishists among the motorcyclists.
The battery weighs only about 1 kg. This saves between 2 - 4 kg depending on the installed battery. There is no easier way to save weight on your bike.
12 V maintenance-free lithium-ion battery, capacity 3.8 A, energy 45.6 Wh, dimensions in mm 150x65x131, charging current recommended 4.5 Ampere, maximum charging current for fast charging 35 Ampere.
Very cost-intensive, but EASY! We supply only the very latest technology.
The battery is delivered before charged.
With charge level indicator (simply press the button on top of the battery and the integrated LEDs will show you the current charge level).
Another great advantage of lithium batteries is their extremely low self-discharge (maximum 5% per month). Whereby our experience has shown that it is even lower.
We recommend to order our charger if you don't have one that is capable of lithium-ion.
The following advantages speak for JMT lithium-ion batteries:
- approx. 1/3 of the weight of comparable lead-acid batteries
- Brass pole connections for best conductivity
- waterproof
- completely black battery case
- Battery housing made of nylon, therefore a deformation at heat is practically impossible
- unbeatable cost/weight saving ratio
- can be installed in any position, as they do not contain acid
- contains no heavy metals
- balanced discharge/charging of all cells by balancer
- Fast charging with high charging current possible (up to 90% in 6 min)
- very low self-discharge (max. 5% per month)
- good performance even at high temperatures up to 60°C
- safe technology and long service life
Related links to "Lithium-Ionen Battery"
Read, write and discuss reviews...
more
Customer evaluation for "Lithium-Ionen Battery"
Write an evaluation
Evaluations will be activated after verification.