Attention! When ordering in the comments please specify for what a motorcycle and what year of manufacture the set should be. Only for models up to 2014 from 2015 other chains were installed (for this please contact us personally)
Enuma 525 chain kit
The kit includes a very high quality Enuma chain, a chainring (choice of a black steel chainring or a stealth chainring in gold / black) and a chain sprocket.
A bit further down in the description, you have to pack your wish gears to the set.
In addition, a rivet lock is included. Who has no rivet tool, we recommend the patented Enuma screw lock to order with it (you will find in the accessories articles in this description).
We recommend you to choose a shorter gear ratio than the original one from Triumph (this is simply much too long for the engine power). We advise a 18 / 45 or even 17 / 45 ratio.
If you want to order a different gear ratio than available, feel free to contact us and order a custom chain set.
Factory gear ratio:
790cc engines: 17 / 43
865cc engines: 18 / 43
Tip:
- We recommend to order a new sprocket locking plate with the chain set for safety (see accessories article in this description).
- In addition, you will find in the accessories still beautiful, black chainring nuts for all who want to have it completely black.
- For easier assembly, we recommend the Enuma screw lock to order with it
To the Enuma chain:
There is cheaper but nothing better. Quad-Ring chain technology. Superior to the original DID O-ring chain.
By the optional patented screw lock problem-free fast change without swinging dismantling and/or Spengen and riveting. This saves time and money.
Simply old chain durchflexen, Enuma with screw lock on it and ready. These chains are so strong that retensioning is almost unnecessary. Chainring and sprocket made of the best carbon steel.
Wählen Sie aus den folgenden Artikeln der Artikelgruppe: Kettenblätter - AC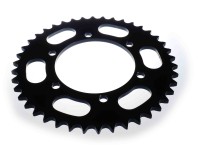 €41.95 *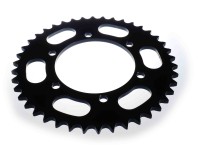 €43.95 *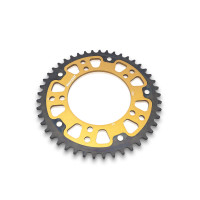 Sprocket Stealth 525 - AC 43

€69.95 *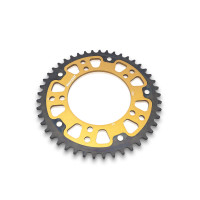 Sprocket Stealth 525 - AC 45

€69.95 *
Wählen Sie aus den folgenden Artikeln der Artikelgruppe: Ketten Ritzel - AC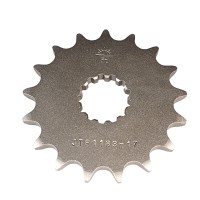 €22.90 *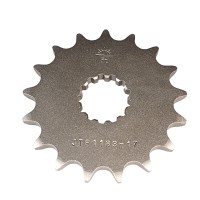 €14.95 *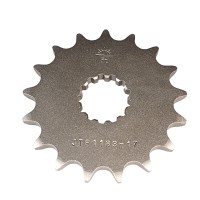 €14.95 *